What is My TimesUp?
TimesUp is software tht easily enables you to limit the amount of time available for internet surfing per individual user. This can be a daily or weekly schedule e.g. 1 hour a day or 5 hours over a week.
In addition, you can set a "bedtime" after which surfing is prohibited e.g. after 22:30
One must install "TimesUp" on each computer where internet control is desired.
Each user is given is given unique username & password and only after successful login is surfing enabled.
User left time is diplayed on the window:

When the allotted time runs out, TimesUp will minimize any open browser and prevent further surfing.
Five minutes prior to this, a popup will warn the user that the browser is about to close.
Preventing Surfing
When hovering with the mouse over the window, the window will enlarge, and all the options will be presented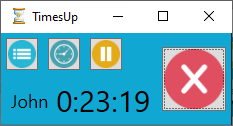 A user may close his internet connection - by clicking

(Stop) or by clicking

(Pause).
Pause does not require the user to enter his password in order to resume, but exit does.
Both of these actions will freeze the remaining time for the user, and will restart from that point in a subsequent login.
Each day at 05:00 (for daily schedule), or at Sunday morning (for weekly schedule), the ' time remaining' is reinitialized and equaled to the initial allocation.
Adding Time
Time can be added to the user by pressing

A browser window will open at the site, the user will be asked for the administrator password, and then he will be able to add or subtract time.
TIme can also be added from a remote computer, using the site. In the site, select menu option "Add TIme", under "Personal Data".
How does one create users?
Users are created and managed from the Web Site.
In the main menu, click the "Users" button under "Personal Data" menu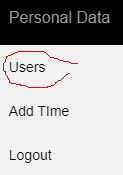 If you still did not login, you will be redirected to the login page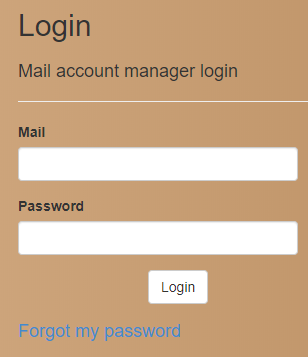 Here you will enter your account name, meaning the Email you entered when installing the TimesUp application, and the password you entered on installation (this is the Administrator's password)
If you forgot your password click the link

After the login you will be redirected to the Users page.
In the Users page the list of all users is shown. You can see how they are configured (daily end time, time allocation etc.), and you can edit or delete them.
Moreover, new users can be created and added to the list by clicking on

.
Good Luck!!!